Telephone: (865) 475 - 3836
Address: 1403 Russell Ave

Register Today
If you have prescriptions with our pharmacy, take a few minutes and register online so that you have access to your prescriptions online. register »
Review Online
Once registered and authenticated your account, you can review your prescriptions, drug information and can see all the information pertaining to your prescribing doctor.
Easy Refilling
After reviewing your prescriptions, you can mark prescriptions to send a refill request online. Securely refill prescriptions online. It can't get any easier.
Welcome to Murphy's Sav-Mor Pharmacy
Murphy's Sav-Mor Pharmacy was founded in 1969 by John F. (Jack) Murphy Sr. & wife Georgia Bettis Murphy. We have been serving Jefferson County & the surrounding area for over four decades. The pharmacy is still family owned & operated by Jack's son John F. Murphy Jr & wife Jamie Aaron Murphy.
The pharmacy staff at Murphy's are all local people from our community who believe in personal attention to our customers and their needs. We fill your prescriptions in minutes, not hours. Most pharmacies take hours because they want you to shop around in the store & spend more. We know your time is important to you, so we get what you need, get your prescriptions done & get you on your way.
Murphy's Pharmacy is a member of the good neighbor pharmacy network so we can offer a Rx Savings Club to customers with no insurance which offers many meds at $4.99 for a 30-day supply and $10.99 for a 90-day supply.
We accept most insurance plans
We accept most workman compensation claims
You can order prescription refills via the internet if you choose
Full line of OTC (Over the Counter) merchandise
Great selection of musical accessories including guitars, strings, straps, picks, capos, tuners, drumsticks, drum heads & much, much more. If we do not have the item in stock that you need, we can order it & get it fast!
It is our commitment to provide you with exceptional service both in the pharmacy and online.
We are pleased to announce that you can now access your prescriptions online - 24/7!
What does that mean to you?
No need to wait in line to refill your prescriptions.
View and refill your prescriptions in the comfort of your home or office.
How much does it cost?
Absolutely FREE!
How do I get started?
Click on Register and begin the registration process. It's just that easy!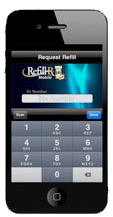 Refill your prescriptions on the go.
We also support RefillRx Mobile to provide you with a one tap solution for refilling your prescriptions. Simply scan the barcode on your bottle and watch as RefillRx Mobile sends your request to our pharmacy.
If a barcode is not available you can also simply enter the Rx number for your prescription and search for our pharmacy by entering (865)475-3836.
Download RefillRx Mobile Today!
iPhone Link
Android Link
Our Hours
Open Monday through Friday
8:30 a.m. - 7:30 p.m.
Saturday
8:30 a.m. - 3:30 p.m.
Sunday
1:00 p.m. - 5:30 p.m.
Our Slogan
""
~Murphy's Sav-mor Pharmacy,Inc.
Get in touch!

We love to hear from you!
Address: 1403 Russell Ave
Jefferson City, TN 37760

Telephone: (865) 475 - 3836 (Pharmacy)
Telephone: (865) 475 - 9411
(Front End, OTC & Musical Instruments)
FAX: (865) 475 - 4034
E-mail: